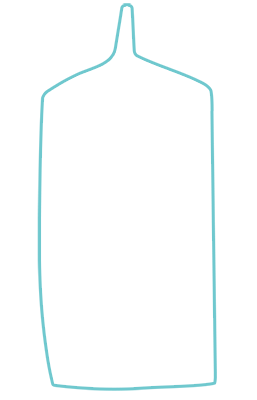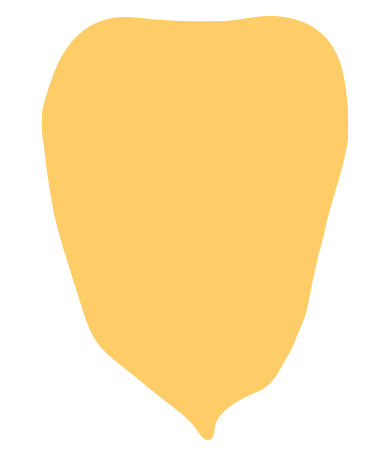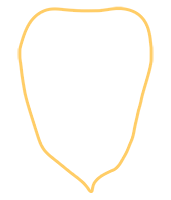 Veal Cutlets Parmigiana, Pancetta and Tomato Confit Sauce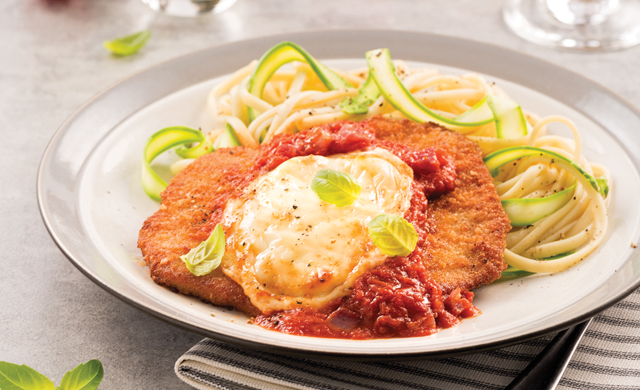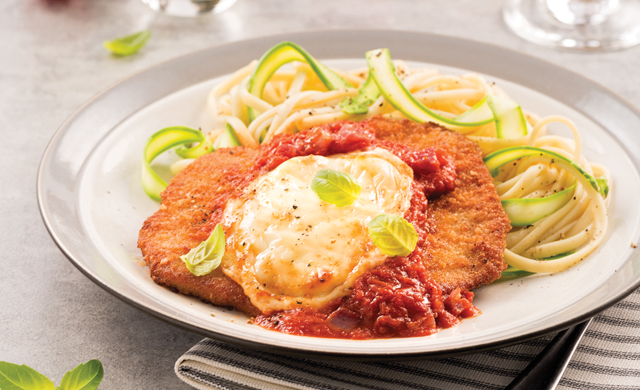 Preparation time:
25 minutes
Type: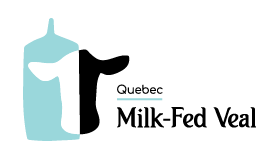 Ingredients
4 Quebec Veal cutlets
8 Italian tomatoes cut in quarters
1 onion cut in pieces
1 small garlic clove sliced
15 ml (1 tbsp) olive oil
Salt and pepper to taste
125 ml (1/2 cup) diced pancetta
80 ml (1/3 cup) flour
2 eggs
180 ml (3/4 cup) natural breadcrumbs
15 ml (1 tbsp) butter
4 large basil leaves
180 ml (3/4 cup) grated mozzarella
Preparation
Preheat oven to 190°C (375°F).
On a cookie sheet covered with parchment paper, place the tomato quarters, onion and garlic. Sprinkle with olive oil. Add salt and pepper. Cook in the oven for 30 to 45 minutes.
Transfer the tomato preparation into a bowl. With a hand blender, reduce into a puree.
Heat a saucepan on medium. Cook the pancetta for 5 to 7 minutes, until crusty.
Add the confit tomato sauce and bring to a boil. Lower heat to keep the sauce hot.
Prepare three deep plates. In the first one, pour flour. In the second one, beat the eggs. In the third one, place the breadcrumbs. Cover the cutlets with flour and shake off the excess. Dip the cutlets in the beaten eggs and then cover with breadcrumbs.
In a large frying pan, melt the butter on medium. Cook the cutlets for one minute on each side.
Place the cutlets on a cookie sheet covered with parchment paper. Garnish with confit tomato sauce, basil and mozzarella.
Broil in oven on top rack for 2 to 3 minutes, at maximum heat setting (broil), until the cheese is golden. Serve with the remaining tomato sauce.
Photo credit: Pratico-Pratiques