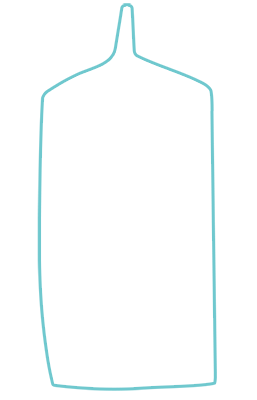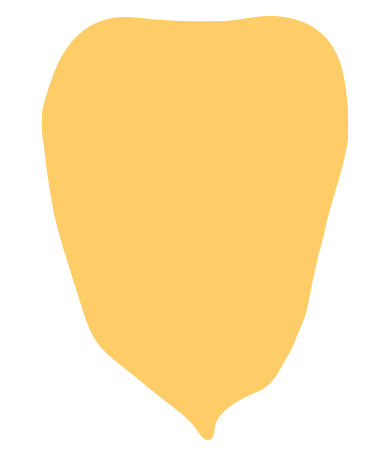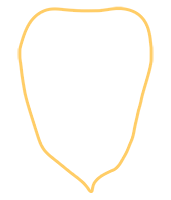 Roasted Veal Rack with Mushrooms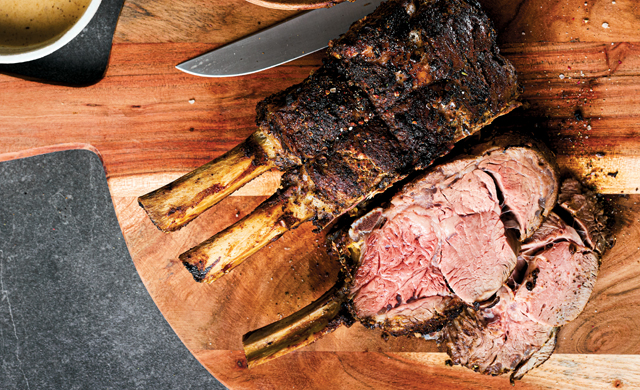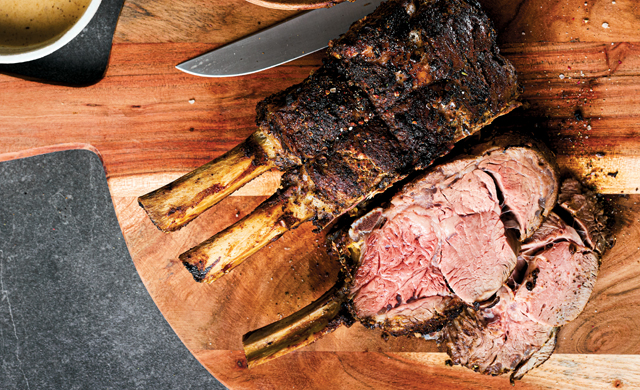 Preparation time:
20 minutes
Type: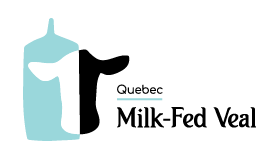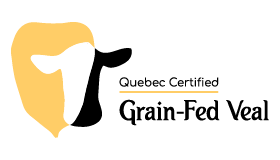 Ingredients
1 4-rib Quebec Veal roast
60 ml (4 tbsp) vegetable oil, divided
Salt and pepper from the grinder
30 ml (2 tbsp) Dijon mustard
50 g (1 3/4 oz) dehydrated mushrooms, forest mix, very finely chopped
2 227 g trays of small button mushrooms, cut in half
3 sprigs of thyme, leaves removed
4 garlic cloves, peeled and coarsely crushed
125 ml (1/2 cup) dry white wine
375 ml (1 1/2 cup) poultry stock
125 ml (1/2 cup) 35% cooking cream
Preparation
Preheat the oven to 150ºC (300ºF).
Heat 2 tablespoons of oil in a frying pan over medium-high heat. Salt the veal roast generously and sear it on all sides for 5 to 7 minutes until brown.
Brush the roast with Dijon mustard and sprinkle all surfaces with the dehydrated chopped mushrooms and some of the powder (reserve the remaining mushroom powder). Pepper generously. Place the roast on the grill of a roaster and bake for 30 minutes.
Meanwhile, heat the 2 remaining tablespoons of oil over high heat in the frying pan used to sear the roast and sauté the button mushrooms 3 to 5 minutes. Season with salt and pepper and add a little oil if necessary. Stir in the thyme and garlic and cook for 2 more minutes. Deglaze with the white wine, add the reserved mushroom powder and reduce for 2 minutes.
After the roast has cooked for 30 minutes, add the mushroom mixture to the white wine in the bottom of the roaster. Bake for another 30 minutes or until a cooking thermometer reads 57ºC (135ºF) at the core.
Remove the veal roast from the oven. Transfer the grill with the roast to a baking sheet and cover loosely with aluminum foil. Let stand for about ten minutes to continue the cooking and allow the juices to spread well throughout the meat, while you prepare the sauce.
Deglaze the roaster with the broth, scraping the bottom with a wooden spoon to collect the cooking juices. Remove the mushrooms from the roaster and keep them warm. Pour the sauce into a small saucepan, add the juice that dripped from the roast into the baking sheet, pour in the cream and whisk lightly. Reduce the sauce over medium heat for 5 to 7 minutes to concentrate the flavours and texture. Garnish the veal roast with mushrooms and serve with the sauce in a gravy boat.
Recipe from Chef Jean-François Plante's Rôtir magazine